KI04 Battery, CAD$52.27 Canada Li-ion Rechargeable 41Wh HP KI04 Batteries CAD$52.27
Canada New KI04 Battery, Sale Price CAD$52.27, Li-ion 14.8V 41Wh Black KI04 Battery For HP Laptop Computer, Notebook, Ultrabook, ToughBook, Gaming PC, Tablet... Fast Shipping And 1 Year Warranty
This KI04 Battery, CAD$52.27 Canada Li-ion Rechargeable 41Wh HP KI04 Batteries Can Fast Ship To Canada Toronto, CALGARY, Montreal, Ottawa, Edmonton, MISSISSAUGA, Vancouver, Winnipeg, Laval, QUEBEC, London, Victoria, Markham, Brampton, Oakville, Gatineau, Richmond, Hill, Surrey, Scarborough, Kitchener, Burlington, Hamilton, Saskatoon, North York, Waterloo, Windsor, Milton, Burnaby, Oshawa, Richmond, Guelph, Regina, North Vancouver, Thornhill, Sherbrooke, Kingston, Coquitlam, Halifax, Etobicoke, WHITBY, CAMBRIDGE, Kelowna, Kanata, Barrie, Nanaimo...
KI04, HP KI04 Battery
https://www.ca-laptop-batteries.com/rechargeable-hp-ki04-battery-m-113638-3819.html

( Canada Post Default )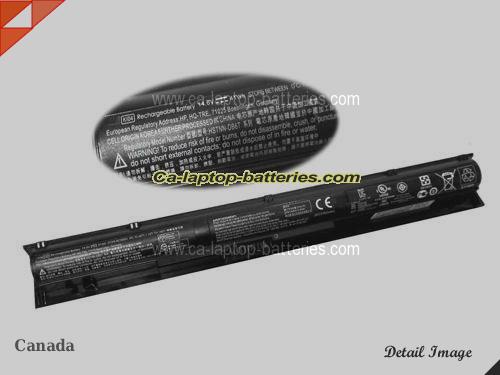 KI04 Battery, CAD$52.27 Canada Li-ion Rechargeable 41Wh HP KI04 Batteries, 41Wh, 14.8V, Black , Li-ion
1 Year warrantyFast Shipping 30 Days Money Back

Ask a Question

Share This Item
KI04 Battery Fast Shipping in Canada with tracking number. Add to cart---->Fill Shipping Information ---->Check out ---->Finish Order
No need to register account in our site.
An email include order detais will be sent out after checked out.

Tracking order is easy

: with order id and email address, You can get the delivery time, the Tracking Number, the Tracking Url on our site any time . (Tracking order >>)
We accept payment: Debit Card, Credit Card, Paypal Credit, Paypal Account, Visa, Mastercard,JCB...
Customer can get money back if didn't receive this KI04 Battery.
Genuine HP KI04 Laptop Battery 41Wh, 14.8V, Black , Li-ion
| | |
| --- | --- |
| Battery ID: | NHPKI0441WHB4 |
| Battery Name: | KI04 Battery |
| Battery Type: | Rechargerable Li-ion Battery |
| Battery Volt: | 14.8V |
| Battery Capacity: | 41Wh |
| Battery Color: | Black |
| Battery Weight: | 215g |
| Battery Cells: | Grade A, 4 Cells |
| Condition: | Original / Genuine Battery - 1 Year Warranty |
| Buy Note: | For correct laptop battery, Pls carefully check original battery's shape, model, volt, interface location, fixed screw hole location, number of wires... |
| | | | | | |
| --- | --- | --- | --- | --- | --- |
| Quantity | 2-4 | 5-9 | 10-19 | 20-49 | 50+ |
| Discount | 5% | 8% | 10% | 12% | 15% |
In Stock
Original price:

CAD$ 66.16

Sale Price:
( Updated: Feb 2023 In stock)
You Save:

CAD$ 13.89

Buy this battery online

Note:

Press 'Ctr + D' to bookmark this battery, so you can come back when you need customer service or usefull suggestion.

Compatibility Of This KI04 Battery
This KI04 Laptop Battery Compatible Follow Original Battery Number:HP
800049-001, 800049-01, HSTNN-DB6T, HSTNN-LB6S, K104, K1O4,
KI04
, KIO4, M9F64EAABU, N2L84AA, TPN-Q158, TPN-Q159, TPN-Q160, TPN-Q161, TPN-Q162, TPN-Q163
This KI04 Laptop Battery Can Work With Follow Laptop:HP
14-AB057CA
, 15 AB289SA, 15-271SA, 15-ab001nf,
15-AB045S
, 15-ab101AX, 15-AB102NO, 15-ab113AX,
15-AB124AX
, 15-ab150sa, 15-ab150sa ENERGY STAR, 15-ab188ca,
15-ab227tk Nbk Cnx
, 15-AB227TX, 15-AB238NA, 15-AB243CL,
15-AB253CA
, 15-AB254S A, 15-AB269AS, 15-AB269SA,
15-AB271N3
, 15-AB271S A, 15-AB272S, 15-ab288sa,
15-ab289sa
, 15-AB291SA, 15-AB511NA, 15-ak014TXP7G6PA,
15-AK025TX
, 15-ak039TX, 15-DA0350TU, 15T-AB200,
15t-an000
, 17-AB011, 17-G100NX, 17-G103DX,
17-G106NA
, 17-G116NZ, 17-Gu13NG, AB269SA,
DESKTOP-7459VB6
, HP15 AB271S, K7P99EAABU, M9F64EAABU,
MD 17-G141DX
, N7K30EAABU, N8L77PA, P4W31UAABA,
Pavilion 14-ab000
, Pavilion 14-ab000(Touch)

Question about KI04 laptop battery ( From internet ):
It will not damage your KI04 battery.
It will shorten its life though, but there is nothing practical you can do about it.
Lithium Ion batteries age in two ways, one is through what is termed "Calendar Life" and the other is Cycle life. Here is what you need to understand about both:
Calendar life - the time spent at a given state of charge (SOC) and a given temperature causes a loss of capacity and increase in internal resistance that is proportional to the square root of the time. Higher SOC imparts greater degradation. Higher temperature imparts greater degradation. Keeping your computer plugged in all the time with the battery ensures that the battery stays hot and charged as much as is possible. If nothing else, turn down the performance of the laptop when you don't need it to overperform so that it runs cooler.
Cycle life - while you might think that it makes sense to fully discharge the batteries, rather than put lots of little cycles into it, the opposite is true. Lots of little cycles do virtually nothing to the cells. 100% discharges are the bane of their existance.
So, the reality is, you could optimize battery life by keeping the battery about 50% charged, letting it discharge a bit and then recharging it, and if chargers allowed for it, floating them at a SOC that was not 100%. However, it is much much easier to just get on with life and use your laptop and not worry too much about this. Assume your battery costs you $1 a day. Put that much away for its replacement. When it is fine on the day you buy your next computer, you have now paid for that new computer, or a good size chunk of it.
If you take the KI04 battery out, it will not be stable and will likely get more dust inside.
Remove the power supply from the notebook.
Remove the battery from the notebook.
Inspect the battery for sign of possible damage to the battery, if there is any damage to the battery like a cracked casing o0r swelling replace the battery.
Also inspect the contacts on the battery for signs of dirt or corrosion. If any dirt or corrosion is detected, use a cotton swab with alcohol to clean the contacts. Or, if the contacts are exposed and accessible, use s pencil eraser to clean the contacts. Use compressed air to clean any eraser particles. Do the same for the contacts for the battery in the notebook itself.
Re-install the battery, then re-attach the power supply and see if the battery is charging now.
If the battery is charging, you may want to check the manufacturers support site and see if they have a utility to check your battery. (Not all manufactures may have them, I know that HP does for at least some for their notebooks.)
If you want a long life KI04 Battery, just to buy a new original KI04 Battery or higher capacity KI04 Battery. Beacuse genuine battery have original battery cells, higher capacity battery can work longer and reduce annual charge times.

Search Tips:
Need '

Dell WDX0R Battery

'-------Just Seach with "

WDX0R

".
Need '

Battery For Toshiba Satellite L50-AT18W1 Laptop

'-------Just Seach with "

Satellite L50-AT18W1

".
Need '

ACER 19V 2.37A Adapter

'-------Just Seach with "

ACER19V2.37A

" Or "

ACER 19V 2.37A

".
Need '

Lenovo ADLX45NDC3A ac adapter

'-------Just Seach with "

ADLX45NDC3A

".
Need '

Ac Adapter For MSI GL63 Laptop

'-------Just Seach With "

GL63

".
Need '

Ac Adapter For LG FLATRON E2442TC Monitor

'-------Just Seach With "

E2442TC

".
Need '

Ac Adapter For Samsung HW-K430 SOUNDBAR

'-------Just Seach With "

HW-K430

".
Have

item number( Model / PN )

------Search with "

Item number ( Model / PN )

".
Have

Machine Model( Number / PN )

------Search with "

Machine Model ( Number / PN )

".
'

Brand

' is not needed when you search.
HP Battery by laptop model :
HP Laptop Battery
>> KI04 Battery

Find your new battery here: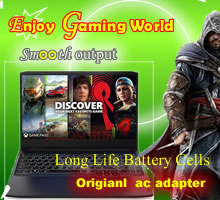 Categories
Store Data
Laptop Batteries
Global Store
Accept Payment